Opening ceremony of the Haynal André Memorial Collection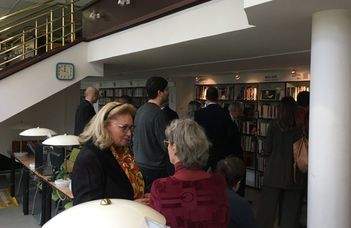 On April 1, 2023, the Faculty of Pedagogy and Psychology of the Eötvös Loránd University and the Hungarian Psychoanalytic Society jointly organized the opening ceremony of the André Haynal Memorial Collection in the Faculty's hall and in the library on Kazinczy Street.
The event was also attended by Veronique Haynal, André Haynal's widow, and his son David and his wife. At the ceremony, after the welcoming speeches of the institutions, the family told about the life of André Haynal. Afterwards two lectures were given on the work of André Haynal.
In the second half of the opening, the audience viewed and visited the book collection what is located in the Faculty's reading room. The guests leafed through the books with great interest.
The event ended with an informal discussion.